CAREER WITH THE GROUP OF COMPANIES
Join our outstanding team!
As an employer, we offer you the humanity of a family-run company, a passion for craftsmanship and a sense of responsibility towards our climate.
Discover a work environment characterized by friendly collaboration, respect and participation. We believe that success only comes through community, that we can only achieve our goals together. It doesn't matter if you're an intern or a manager – everyone at Terhalle makes an important contribution and contributes to Terhalle's success.
Become part of our team and shape your future together with us.

We are looking for another 30 crew members!
"Open production day for interested applicants".
Saturday, September 23, 2023
from 09.00 – 15.00 in Ahaus-Ottenstein

We invite all interested carpenters, joiners, career changers from all craft professions and gifted people – who are crafty
motivated – to take a live look at the workplace of the future. Inform yourself without obligation and confidentially.
No time? Here you get your individual
Appointment of Anja Tenbrink: tenbrink@terhalle.de | 02561-98 23 110
You have the opportunity to constantly develop yourself, with us no one is slowed down. We support you with further training wishes.
To ensure high quality standards, our employees are constantly trained. Safety weeks are also held annually, during which our employees are trained in specific topics.
Strategic employee appraisals
Communication is important to us. We take this as an opportunity to conduct regular strategic employee appraisals with the supervisor.
Being together welds us together. Every year, we hold a joint summer party with partners and a Christmas party with the entire group of companies. Team events are also organized within the respective departments.
Twice a year, our in-house magazine is published, reporting on innovations within the group of companies.
Always and everywhere up to date – news and information about the group of companies. Here you always stay informed.
Provision of work clothes
When you start, you will receive an initial kit from us. We also offer you coupons for safety shoes every year.
Flat hierarchies are important to us. We are on first name terms at all levels and take time for you if something is on your mind.
Common lunch breaks are important to us. We offer you an employer allowance for meals in our company cafeteria.
Sustainable and healthy living. With the providers EURORAD and BUSINESSBIKE you have the possibility to lease a company bike.
"There are modern devices and software that make our work easier and more efficient. What I particularly like is the varied and diverse range of assignments; every day brings new challenges and exciting projects. The management sets a good example and maintains an open and friendly relationship with all employees. This creates a positive working atmosphere and promotes team spirit."
Divisional management sales
"Terhalle attaches great importance to ensuring that employees can continuously expand their knowledge and skills. Another advantage here is the flat hierarchies and the associated opportunities for promotion. Terhalle is always two steps ahead in its industry, which not only creates an exciting work environment, but also offers the opportunity to contribute new ideas and develop your own creative approaches to solutions."
Training manager carpenter
"As a training manager, I particularly appreciate the lively exchange with our trainees. The variety of activities at Terhalle ensures that no two days are the same. The close contact and good teamwork are another reason why I like working at Terhalle. We support and complement each other."
"As a carpenter, I am proud to work in a profession that combines my passion for creativity and precision."
"The work environment is friendly and respectful. It's encouraging to see our team grow together and succeed together."
"The ergonomic design of my work environment in production has a noticeable impact on my comfort at work and my health. Thanks to ergonomic workstations and workflows, I can work more efficiently while improving my well-being at work."
"I appreciate the opportunities for advancement that Terhalle provides, whether it's through internal training, continuing education programs, or assistance with external training and certifications."
"The cohesion in our team is just super. There is a positive atmosphere where you feel comfortable and appreciated. One of the things I particularly like here is the opportunity to work independently. This allows us to use our skills and potential to the fullest and makes us feel like an important part of the company."
"Above all, I appreciate the flexibility that is offered to me. Here I have the possibility to adapt my work to my individual needs. The working atmosphere is characterized by open and respectful interaction. Here, the principle of working at eye level is really lived. At Terhalle, there is a strong emphasis on treating all employees fairly."
FIND THE RIGHT JOB FOR YOU
To actively support our team, we are constantly looking for motivated, open-minded and team-oriented people. We offer you exciting activities with responsibility in a modern and harmonious working environment.
Are you looking for a new professional challenge?
We are looking forward to meeting you!
Fitter (m/f/d) Interior fittings
Professionally experienced
Craft, service and manufacturing
Professionally experienced
Craft, service and manufacturing
Craft, service and manufacturing
Project manager (m/f/d) in timber construction
Professionally experienced
Engineers and technical professions
Roofing foreman / journeyman / helper (m/f/d)
Professionally experienced
Craft, service and manufacturing
Technical Manager Window Construction (m/f/d)
Professionally experienced
Engineers and technical professions
Professionally experienced
Craft, service and manufacturing
Division Manager Project Management (m/f/d) in the field of timber construction
Professionally experienced
Engineers and technical professions
No problem. Have courage and send us your speculative application.
Maybe we will find a job together that suits you perfectly.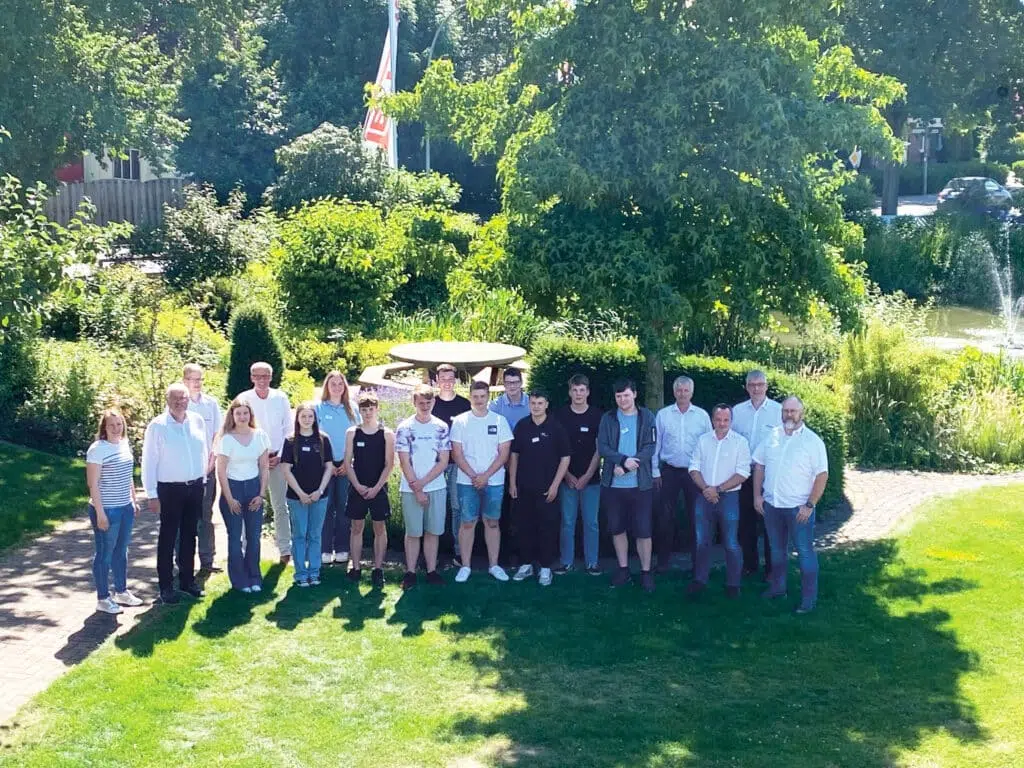 Start your apprenticeship at the Terhalle Group and become part of an outstanding team.
you have questions about our jobs?
We take the time and answer your questions with pleasure